Update July 20th, 2021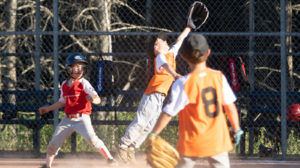 After much thought and debate, we have made the difficult decision not to take registrations for the 2021 season. At this point we simply do not feel comfortable accepting money with so much uncertainty. We pride ourselves on the product our organization delivers.
With all the COVID challenges delaying everything, combined with Mother Nature cancelling 75% of our diamond times so far…it has made things extremely difficult. We had planned registration for a 4-week program to run through August 6th, but with all the uncertainty around numbers and the rush to pull everything together, combined with a lack of commitment from adult volunteers who have made other plans for the summer…we've decided to reduce our diamond usage. (Our diamond fees are $2661.15)
We will continue to offer FREE CLINICS on Tuesdays and Wednesdays. Each age group will have an hour-long session each week and Bracebridge Minor Ball will cover the costs. (Yes, the first one tonight was rained out because diamonds were unplayable.) This will allow new players to come out and give it a try for free, while others can continue to work on their skills and build some excitement for next year. These clinics will run until August 4th.
DAY
Diamond 1
Diamond 2
Diamond 3
Diamond 4
Tuesday

6:00pm-7:00pm
(2011)

7:15pm-8:15pm
(2008 & UP)

6:00pm-7:00pm
(2012)

7:15pm-8:15pm
(2009)

Wednesday
5:45pm-6:45pm
(

2015)

5:45pm-6:45pm
(

2017/2016)

5:45pm-6:45pm
(

2014)

5:45pm-6:45pm
(2013)

7:00pm-8:00pm
(2010)
Be sure to thank all the coaches who volunteer to help with each session!! In a not-for-profit organization, it is the volunteers that drive the ship! Yes, we are always looking for more help both on, and off the diamond.
We look forward to a return to normal next year when we can start registration in February and get back on the diamonds with full programming.
Thanks,
Bracebridge Minor Ball Committee