Site Updated: Friday July 26th, 2019
The final house league tournament of the year will be held on Saturday August 10th with a rain date of August 11th! Awards and pictures will be handed out, and gold glove competitions will take place! All divisions except for Squirt and T-Ball will take part. T-Ball will have a special showcase during the lunch hour for the event, and will receive their awards and pictures afterwards. Squirt will have their final play downs on Wedneday August 14th (because our Squirt Rep team is at Provincials on August 10th which means many players would be missing from house league teams.) Details on schedule and other festivities will come out closer to the event!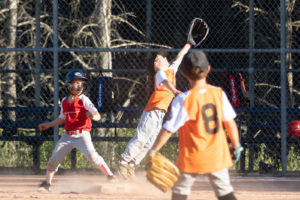 We have invested in online registration to make the process easier to do without the need to submit forms and payments in person. The online registration process will securely collect your credit card information through our providers, SportSavvy and Bambora.
If you have free time and would like to be involved … either committee, coaching, umpiring or event volunteering, please email us: bandits@bracebridgeminorball.com