Last year we invested in online registration to make the process easier to do without the need to submit forms and payments in person. The online registration process will securely collect your credit card information through our providers, SportSavvy and Bambora. If you are unable to pay by credit card, please proceed to the end of the registration process (where it asks for a credit card) and contact us to arrange for payment. This will have your child registered, however no child will be placed on a team without payment and the easiest way for us to receive payment is by credit card.
Contact us at anytime, bandits@bracebridgeminorball.com.
Below are some notes to help guide you through the registration process.
If you created an account last year, log in with those credentials (or, select the "forgot your password" link to get your password e-mailed again).
When you create an account, you're creating a "family" account – this is not your child, it would be an adult.
Once your family is created, you then will create "involvements" which will be other contacts (spouses, for instance) as well as players.
When creating the player(s), you first enter the name, gender and birthdate. Then, once created, you will "Register" the player and only the age group that they are able to be in is the only option.
Once selected, it will then ask player specific questions (health, shirt size, etc).
Once all players are registered and contacts created (can be changed at any time) you proceed to answer "family" questions (not specific to an individual players).
The final page will show the balance owing, with any discounts applied (early bird or family), and show credit card entry.
Then once payment is received you'll have to go in the administrative side (training coming for that, don't worry) to finish the registration.
NOTE: If you child played last year, they should already be in your list. When creating a new player, do not click "Make Me a Player" (you are the family contact), you need to click "New Player" as in the screenshot below, then register that player.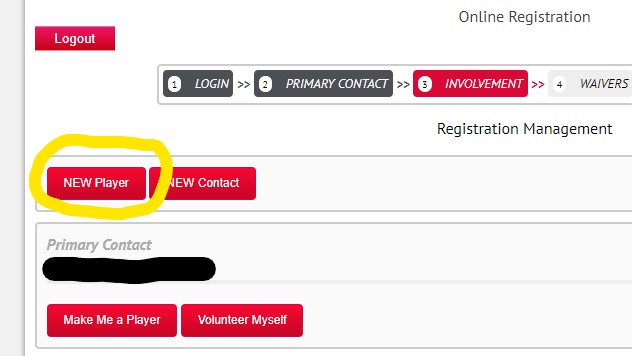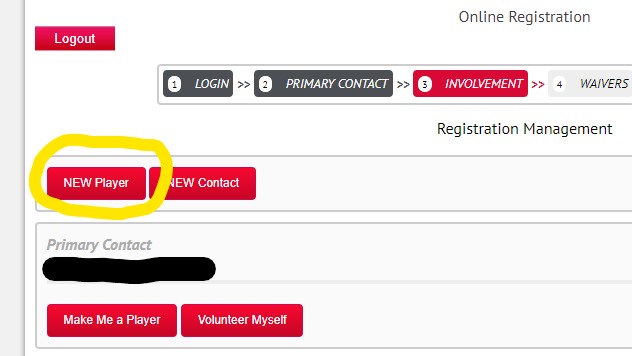 NOTE:You need to go proceed all the way to Step 6 for online payments. That's where you will also see any discounts you qualify for as in the screenshot below: